AARON SILVA
INDUSTRY ADVOCATE | NEGOTIATIONS EXPERT | THOUGHT LEADER | ACCLAIMED SPEAKER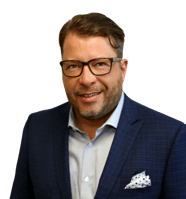 Mr. Silva is a recognized and respected industry leader and negotiations expert standing for community financial institutions. An entrepreneur and industry veteran since 1991, Aaron founded Paladin fs, LLC in 2007 and launched Golden Contract Coalition in 2016. His invention of the Paladin Blue Book has leveled the playing field in contract negotiations vs. national Core & IT suppliers, gaining his clients more than $300M in cost reduction and $100M in merger value accretion. In 2018 Silva expanded Paladin to include the Fintech Advantage division, now addressing the anticipated adoption of fintech services within the industry. By the end of 2019, the GCC will have more than $1B in combined contract value - the largest banking association focused exclusively on developing a fair "Golden" contract standard that all Core, IT and Fintech suppliers will ultimately adopt in order to do business with this industry.
---
AARON'S PRESENTATION TOPICS
---
The industry is shrinking by 5%-6% annually through M&A. Meanwhile, Core & IT suppliers' revenue and profits grow as they quietly act as silent shareholders in every deal no matter the situation - sell or buy. Institutions can restructure their current contracts to prosper before M&A rather than be punished. Hear real life case studies where bankers wisely took matters into their own hands and gained greatly.... READ MORE.
When it comes to negotiating and renewing these multi-million dollar relationships once every five to seven years, community banks are at a distinct disadvantage negotiating against their Core and IT service providers – bankers have to know what to demand in advance. Suppliers protect these secrets within a team of highly skilled negotiators, contract writers and lawyers who negotiate hundreds of contracts each year with different institutions.... READ MORE.
Institutions want to begin their digital transformation strategy and acquire the benefits of virtual banking but they don't know where to start. This presentation discusses the technological and contractual barriers that await and discusses what other banks are doing to solve these problems. Includes examples of omni-channel banking, mobile first and basic functions of a virtual bank. This presentation can be conducted with a progressive banking executive or small panel that will discuss relevant points for the audience and provide real life examples and an action plan.... READ MORE.
Fintech will disrupt every aspect of banking IT in the next 5 years but nobody is giving banks a plan on how to find, assess, procure and implement friendly fintech alternatives. Even worse, few are talking about the market obstruction being executed by the major Core IT suppliers and how this could blow up an institutions' efforts in executing an innovation and digital transformation plan.... READ MORE.
This A-political, non-partisan, entertaining yet serious presentation will feature President Trump as the lead negotiator against Core & IT legacy suppliers such as Fiserv, FIS and Jack Henry .... READ MORE.