AARON SILVA
INDUSTRY ADVOCATE | NEGOTIATIONS EXPERT | THOUGHT LEADER | ACCLAIMED SPEAKER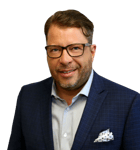 Mr. Silva is a recognized and respected industry leader and negotiations expert standing
for community financial institutions. An entrepreneur and industry veteran since 1991, Aaron founded Paladin fs, LLC in 2007 and launched Golden Contract Coalition in 2016. His invention of the Paladin Blue Book has leveled the playing field in contract negotiations vs. national Core & IT suppliers, gaining his clients more than $300M in cost reduction and $100M in merger value accretion. In 2018 Silva expanded Paladin to include the Fintech Advantage division, now addressing the anticipated adoption of fintech services within the industry. By the end of 2019, the GCC will have more than $1B in combined contract value - the largest banking association focused exclusively on developing a fair "Golden" contract standard that all Core, IT and Fintech suppliers will ultimately adopt in order to do business with this industry.
---
AARON'S PRESENTATION TOPICS
---
M&A Core IT Contract Negotiations: Why Planning Ahead Pays Off Big League
Mergers will continue to be a viable strategy as a way to grow — or, in some cases, just to survive. No matter which side of the transaction your franchise may be, Core & IT contracts will impact the deal cost, accretive value, and shareholder benefit. Unfortunately for shareholders nationwide, Core & IT Suppliers will profit by hundreds of millions of dollars each year for services.... READ MORE.
Secrets Revealed: 10 Things Your Core IT Provider Will Not Tell You
When it comes to negotiating and renewing these multi-million dollar relationships once every five to seven years, community banks are at a distinct disadvantage negotiating against their Core and IT service providers – bankers have to know what to demand in advance. Suppliers protect these secrets within a team of highly skilled negotiators, contract writers and lawyers who negotiate hundreds of contracts each year with different institutions.... READ MORE.
Changing the Game – How Disrupting the Oligopoly is the Only Way to Prosperity and Fairness for Banks
After 16 years selling IT services to community banks, Aaron Silva became frustrated with unfair business practices, unethical contracts and one- sided deals that left banks holding the bag. He switched sides in 2007 and dedicated the next 10 years of his career to representing bankers in complex multi-million-dollar IT negotiations against suppliers – greatly leveling the playing field.... READ MORE.
Dare to Compare — Community Bank Core IT Deals vs. Large Bank Competitors
A GAP Analysis recently conducted by law firm Pillsbury, LLP – the largest IT contract negotiating firm in the US with over $500 Billion in deals – summarized that Core IT supplier agreements and pricing 'enjoyed' by community banks and credit unions have not changed since the 1980s. Core IT suppliers have been known for issuing complex and onerous agreements to community institutions.... READ MORE.