Acquire or Be Acquired



What if Trump Negotiated your Next Core IT Deal?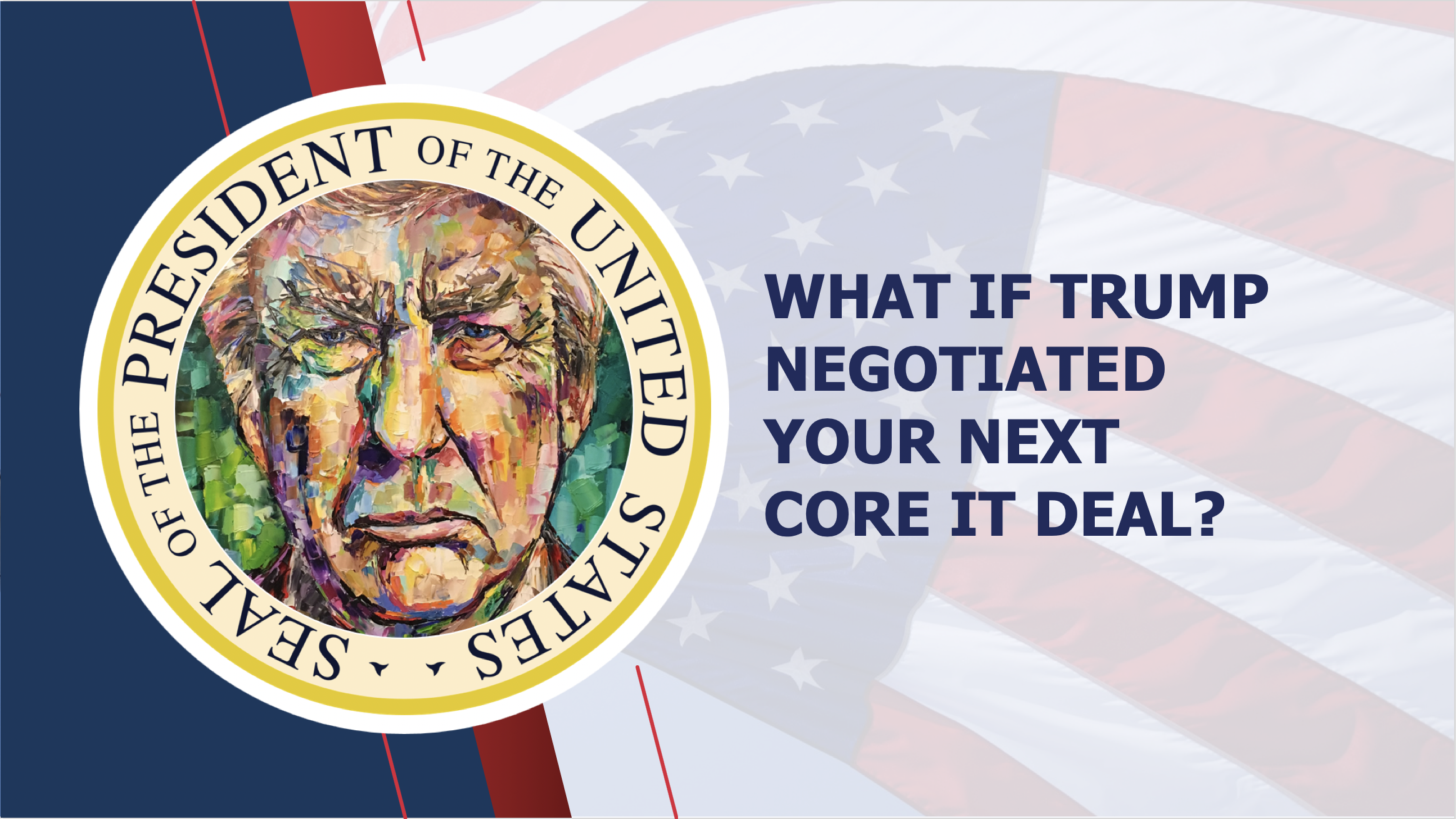 Monday, January 27th at 3:00 PM

Location: McArthur 1-3

Arizona Biltmore
Phoenix, AZ


This A-political, non-partisan, entertaining yet serious presentation will feature President Trump as the lead negotiator against Core & IT legacy suppliers such as Fiserv, FIS and Jack Henry.
Hear from @RealDonaldTrump along with some of his political rivals and friends as they join together in helping bankers avoid #FakeDeals, #FakeIncentives and #BadTerms so they may obtain a fair, balanced and reciprocal trade agreement against any Core, IT or Fintech Supplier now or in the future.
During this presentation, you will learn:
Why Core IT Suppliers' contracts are so one-sided and over-priced

How these vendors unfairly benefit as #SilentShareholders in every merger
What a real Service Level Agreement looks like and how to avoid #FakeSLAs
Where to access market intelligence and pricing data before you next renewal


*Please take our pre-event survey to help us customize this presentation to best fit your situation.
---

AARON SILVA, PRESIDENT & CEO OF PALADIN fs AND GOLDEN CONTRACT COALITION
Mr. Silva is a recognized and respected industry leader and negotiations expert standing
for community financial institutions. An entrepreneur and industry veteran since 1991, Aaron founded Paladin fs, LLC in 2007 and launched Golden Contract Coalition in 2016. His invention of the Paladin Blue Book has leveled the playing field in contract negotiations vs. national Core & IT suppliers, gaining his clients more than $300M in cost reduction and $100M in merger value accretion. In 2018 Silva expanded Paladin to include the Fintech Advantage division, now addressing the anticipated adoption of fintech services within the industry. By the end of 2019, the GCC will have more than $1B in combined contract value - the largest banking association focused exclusively on developing a fair "Golden" contract standard that all Core, IT and Fintech suppliers will ultimately adopt in order to do business with this industry.