Like all financial institutions, you're in the middle of a long-term Core IT contract and you likely have ancillary product quotes sitting on your desk awaiting review and approval. The fact is you probably have no idea what you should be paying or what other banks pay for the same exact services. Your vendor holds all the cards and you're forced to guess! Wouldn't it be nice to get the quick, inside scoop on exactly what you should be paying and be assured you're getting a fair deal before you sign?

An industry first – Paladin Quote Check compares product line-item level pricing to our Paladin Blue Book™ for any quote you send our way for products and services that complement account/item processing, internet banking, bill pay, item processing, ATM/EFT, and many more.

Submit any product or service quote TODAY with NO Risk or Obligation!
---
Our confidential and secure submission process is as simple as 1-2-3:


---
Paladin Quote Check includes a benchmarking report, recommended contract language to negotiate from your vendor and as an extra protective measure, we'll even review the contract before it's signed to make sure it doesn't conflict with your existing master contract, terms or pricing!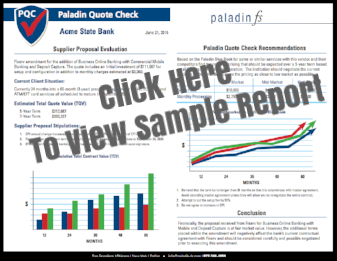 No matter if your product quote is worth $10,000 or $100,000 bankers are FREE to submit their quote at NO COST.

If after a quick review Paladin determines we can help, a no hassle fee of $499/Quote Check is a no-brainer when compared to the risk of signing a multi-year product deal while wearing a metaphorical blindfold.

What do you have to lose, other than overpaying your vendor or getting into a bad deal?
Please complete the form below.

Don't worry, we will never sell your information.