Dare to compare: community bank core it deals vs. large bank competitors
Below you will find a redacted version of our slides from the Moss Adams 2018 Community Bankers Conference. To download the full version, please enter your information using the form on the right.
---
Speaker: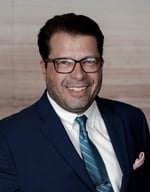 Aaron Silva
President and CEO, Paladin fs and Golden Contract Coalition
Aaron Silva is a banking industry veteran and entrepreneur with more than two decades of experience in banking industry sales and contract negotiations. He realized that without access to a resource of market intelligence and pricing data, bankers were being taken advantage of and unable to level the playing field in negotiations with their Core and IT vendors. Thus, he founded Paladin fs, LLC to be the only company in the industry committed to driving greater cost efficiency into the relationships between community financial institutions and their Core and IT vendors.
Outside of Paladin, Silva speaks at national banking and credit union events and his articles on strategic technology issues facing the banking industry have been widely featured in various trade publications. In addition, his research has been the foundation for highly-regarded studies on pricing disparities and hidden costs in vendor contracts, developed by the Business Performance Innovation.